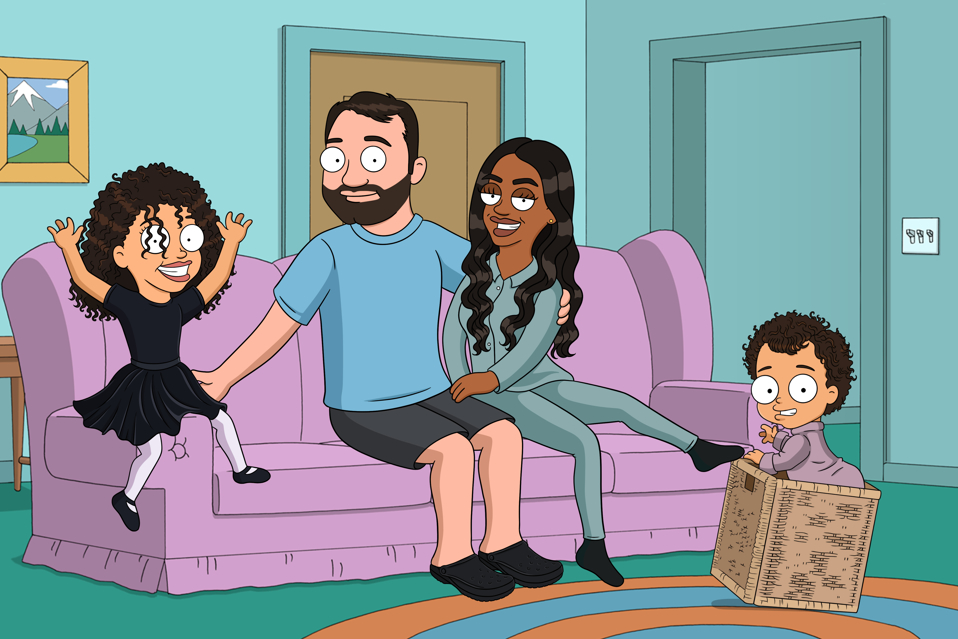 If you haven't noticed, Family Guy is our family's favorite TV show. We can relate to all the craziness in the show, the "love – hate – I'm going to kill you" relationship between the parents and kids hell-bent on destroying the house and our mental health. Yes, we can relate 😒
Nevertheless, we wouldn't trade it for the world (or the pearls in the sea).
So, who are we?
We are a family of four:
Renecia (the mother)
Viktor (the father)
Eliana (the daughter)
Emerson (the son)
Currently residing in Montreal, Canada (much to Viktor's chagrin).
The parents
Renecia and Viktor married in 2015, while Viktor still lived in New York City. The early years of their marriage included a lot of cross-border travel, usually on Viktor's part to be with his wife in Montreal.
Being self-employed allowed Viktor to travel between Montreal and New York City at any time. In 2020, pandemic put a stop to that and grounded Viktor in Montreal for the foreseeable future.
Besides being an interracial family, we're also a multicultural family.
Renecia was born in Trinidad and Tobago and immigrated to Canada in 2014 with her family looking for a change (and change she found, a husband and kids). She currently works from home as a customer service supervisor for a large company, calling "Karens" and "Kens," who request to speak with a supervisor (oh, the stories she can tell 😂).
Viktor was born in Ukraine and immigrated to the US in 2001. After high school, he has served in the US Navy ⚓. For the past decade, he's been self-employed as a marketing consultant. Viktor has helped hundreds of small businesses worldwide generate leads and increase sales through conversion-optimized websites and marketing automation. He owns several blogs, which generate a sizeable passive income.
In 2021, Renecia and Viktor launched an e-commerce business (boobie.ca) in Canada catering to breastfeeding mothers. They are currently working on growing Boobie and launching another e-commerce business.
The kids
What do you get when a Trinidadian marries a Ukrainian?
You get two Canadians with US citizenship.
Eliana and Emerson were born in Montreal. They are Canadians. Thanks to Viktor's US citizenship, they are also US citizens.
Eliana is four now. She looks like her father, but with her mother's attitude.
Emerson is one now. He likes to climb everything, and he's stubborn as a mule.
Lime, licks, and all kina ting
That's us. A Trinidadian and a Ukrainian trying to raise two apologizing Canadians who think they can do whatever they want like true Americans.
It's a challenge, to put it mildly. Sometimes you want to hug and kiss kids, while other times, you want to pelt them through a window (but nobody wants to pay to fix a broken window).
We hope to share tips, advice, and stories on this blog to help other families live a less stressful, happier life with kids.