Let's talk about biracial curly hair. Having been married to a Ukrainian, I knew one day that I would have kids that would have curly hair. What I didn't realize is, it would be a learning process filled with trial and error.
We all know that most babies are born with straight hair, and then as time passes, it usually changes. Like most other babies, my firstborn daughter, Eliana, was born with a head full of super straight hair and as time passed, her hair grew and became curlier and curlier.
During her first year, I would wash her hair every day. Babies are messy. Milk and food get everywhere, including their hair. I thought it was normal to wash her hair with every bath. However, with each wash, her hair became drier.
Yes! I did wash, condition, apply leave-in conditioner, and more, but that wasn't enough. I tried multiple hair care brands, from high-end to low-end, but her hair remained very dry.
Faced with a problem I couldn't solve, I went to Google for help.
Curly Hair Science
It opened my eyes to a whole new world of hair care I didn't know existed. I learned about hair porosity, density, curl types, and what works for different hair types. Before Eliana, all I knew was that I had "black" hair. I didn't know that there were so many factors that contribute to hair health.
I decided to try something different with this newfound knowledge. The first thing I did was to cut down washing her hair to once per week. It wasn't long before I noticed a difference in her hair. With some natural curly hair products, her hair became more defined, held moisture much longer, and overall looked much healthier.
After all the research, it turns out that Ellie has high porosity hair, ranging from 3A to 4A curls. I also learned that we could have multiple hair types in different parts of our heads. That was mind-blowing for me.
The front middle section of Ellie's hair was much curlier than the back. It turns out that this section of her hair is 4A, while the rest is 3A. You can learn more about curly hair types here.
Biracial Curly Hair Care Products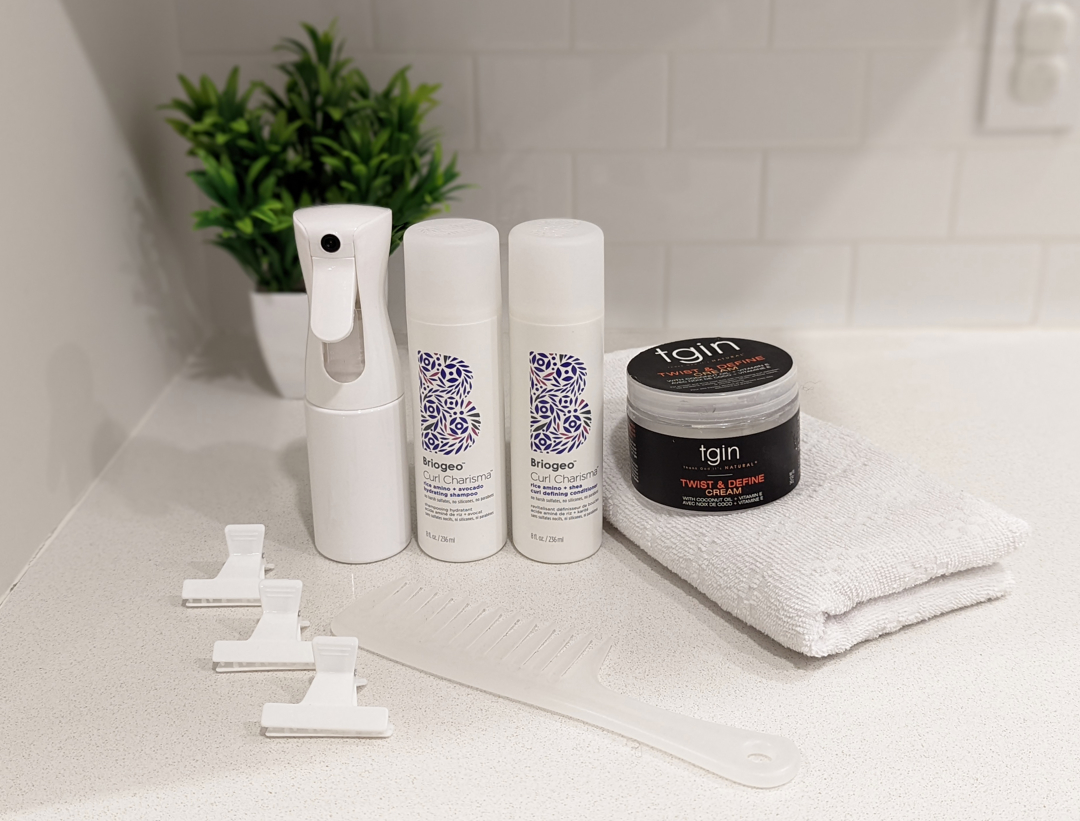 Here's a list of hair care brands that I tried. Some worked better than others. To help you decide which hair care products to try with your child's curly biracial hair, I've given each one a score from 0 to 10. Zero is a terrible product and ten is an amazing product, with everything in between.
I've tried all of these brands to see what works and thanks to Amazon Prime I didn't have to pay for shipping.
I always preferred to use natural products like Shea Moisture and Mielle. Other products like Quai and Living Proof work great, but I didn't want Ellie exposed to too many fragrances and chemicals.
Now that Ellie is four, we have a routine that works. We usually wash her hair on weekends and sometimes during the week if there's a build-up.
I try not to use excessive products at her age. Currently, we are using Briogio hair shampoo and conditioner only because we are trying to finish the bottle (it's expensive) and TGIN Twist and Define Cream. The Brigio Curl Shampoo and Conditioner works well with her hair but the leave-in conditioner and gel is the reason why I gave the product 4/10. Those products were extremely waterlike and did nothing for her hair. That's why I wouldn't recommend it for curly hair.
Once Briogio hair shampoo and conditioner are done, I will be going back to TGIN shampoo and conditioner.
I use water to detangle Ellie's biracial curly hair to get her ready for school. It's essential to use a good spray bottle that wets hair thoroughly.
I use a fine mist spray bottle from Amazon.ca for $12, it soaks her hair without dripping, so I can detangle it quickly. Plenty of water is the key to detangling biracial curly hair. Apply plenty of water even if the hair is still wet after washing it.
Once I detangle her curly hair, I apply a small amount of product TGIN Twist and Define Cream in sections to ensure maximum coverage (photo above). Then brush it into a ponytail and send her off to school. She doesn't like different hairstyles, which makes life a little less complicated.
The Takeaway
Find out your child's hair porosity, density, and curl pattern. This will help you determine what curly hair products are suitable.
Also, I always recommend using clean hair products as the ones with alcohol, parabens, and sulfates tend to damage the hair. That's why I like TGIN products and they work.
If you have any questions, leave a comment and I'll be happy to reply.