We went snow tubing in Mont-Tremblant for Valentine's Day. It's been a while since we traveled due to the pandemic. Since the omicron wave has passed and restrictions began to lift, we decided it was the right time to go have a little fun with kids.
It's winter in Canada, so it had to be a winter activity. We decided to go snow tubing.
We prepared for the trip Friday. All the clothes, diapers, wipes, and boots were packed. All we had to do Saturday was to get dressed and leave, the drive was only an hour and a half.
Since I've been in Quebec for over six months, I can't drive anymore with the New York State driver's license. I have to wait to exchange it for a Quebec driver's license. So Renecia had to drive, which meant we would get there the next day🙄. She enjoyed being chauffeured around for years, and now it was her turn to put on the hat and start driving.
With the snow on the road, we had to take our time to drive. There were plenty of cars in ditches waiting to be towed, and we were not planning on being one. Kids were busy watching TV in the back. It's a new dual-screen DVD player (Wonnie) I put in right before we left. Otherwise, it would be hell on wheels for us.
We've been to Mont-Tremblant resort twice already, in the summer months, so we knew the area a bit. The resort is very busy and gets expensive, we wanted something quieter and within a $500 budget for the weekend. That's where Booking.com helped.
I use Booking.com for all hotel stays as I enjoy my Genius discounts and upgrades, so that's where I found AX Hotel.
AX Hotel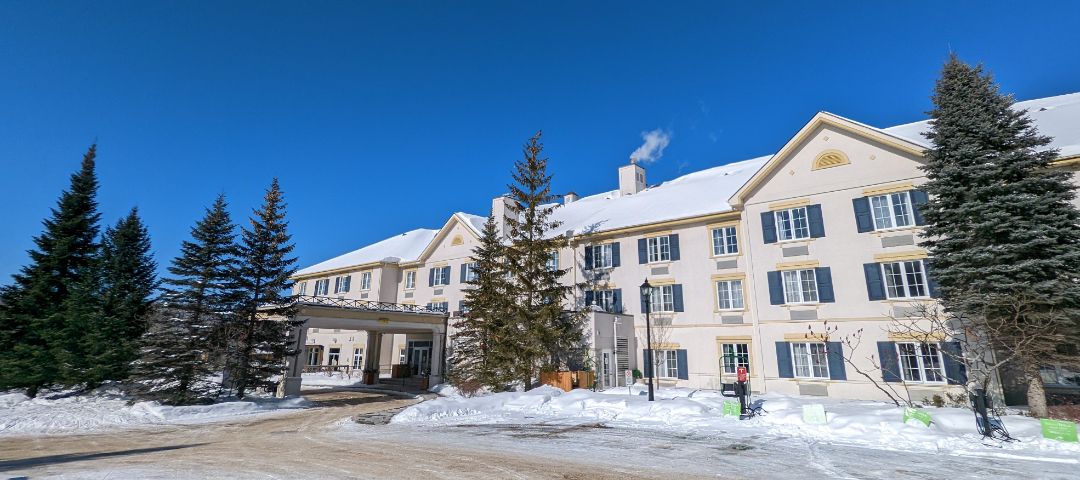 It's a nice, cozy hotel in the mountains which features:
Mountain views.
Lounge-style cafe/restaurant.
Heated pool in the winter.
Only a few minutes away from Mont-Tremblant town.
Not far from Mont-Tremblant resort.
And most important, has Aventures Neige snow tubing on site!
The two-night stay was right within our budget, $413 CAD. Plus, snow tubing tickets came to $112 CAD for two adults and two children.
Our room had two queen beds, and it was on the smaller side but we didn't need a lot of space. It did have a little kitchenette area with a microwave, a mini-fridge, sink, dinnerware, and a Nespresso machine.
It was already late and we haven't had dinner, so we decided to get some food. It turns out, that the restaurant is really more of a bistro cafe. It had some overpriced sandwiches, pizzas, etc. Nothing really family-friendly or appetizing. So we went back to our room to order delivery.
As a spoiled Uber Eats and DoorDash customer, I quickly realized they don't deliver here 😞. I was surprised the hotel didn't have a list of local restaurants in the room, as many do. We had to go old school and find something on Google. Options were limited for delivery, we ended up ordering pizza from Toujours Mikes.
The next morning, we decided to give the cafe a try. That was a mistake.
We tried their $15 CAD/person breakfast, and it was terrible. Everything was pre-made and reheated in the oven:
The omelet was very dry, especially around the edges.
They've taken crispy bacon to another level, it tasted like cardboard.
The chocolate banana waffle was dry and hard and barely had any taste.
Black coffee was good, but that's hard to mess up.
We didn't finish our breakfast. If you're staying at the hotel, skip breakfast.
After our "breakfast," we got ready and went snow tubing.
Snow Tubing in Mont-Tremblant
The snow tubing lanes at Aventures Neige are long and can be steep.
We all went on the slowest lane, which is not as steep as the rest of the lanes. The shallow angle ensures you're going down slower, but it's still pretty fast as you can see in the video.
We went twice together. On the second run, Emerson decided to fall asleep as it was time for his lunchtime nap.
While Renecia took Emerson by the fire to sleep, I took Eliana for another run on a slightly steeper and faster lane. Eliana had fun going down but decided that was enough, "Daddy, that's it."
I dropped Eliana off by the fire with Renecia, and proceed to go on the fastest lane. It was fast and a lot of fun.
Renecia didn't want to go snow tubing on her own, Eliana wanted to go back to the room as she was tired, so we headed back to the hotel to get ready for lunch. We were HUNGRY!
Sunday Lunch at Resto-Bar Lolita
The restaurant at the hotel was not an option, so we headed to the Mont-Tremblant village to find a place to eat. It was cold and a lot of snow, so the streets were rather empty. Only a few people walking around.
We didn't really know what we wanted, so we started walking around to see what our options were.
Across the street from us, I spotted a Mexican restaurant: Resto-Bar Lolita. It looked good, so we went inside.
Just like the streets, it was empty.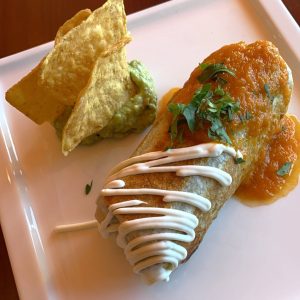 Renecia and I got burritos, while Eliana got a chicken quesadilla.
The food was delicious, there's no doubt about that. My only issue with the burritos was the presentation.
They drizzled sour cream on one end of the burrito and poured some sort of salsa on the other end. You can see in the picture the whole burrito was covered. The nice thing about a burrito is that you can eat it easily while holding them in your hand. It's easy, quick, and very efficient.
Unfortunately, the whole burrito was covered in sour cream and salsa. That gave us two options, eat it with a fork or get your hand dirty.
I chose to get dirty like a peasant, while her majesty chose to eat it with a fork like royalty.
Everyone Had Fun
It was a fun, winter weekend getaway. We went snow tubing for the first time. Hopefully, we'll go more snow tubing next winter. Kids will be a bit older, so they might last a bit longer. So we can tube down the mountain a lot more than twice as a family. Next time, we might try Mont-Tremblant resort to snow tube and maybe ski a bit. None of us know how to ski, so that'll be an experience.
Don't forget to subscribe if you want to follow our adventures.